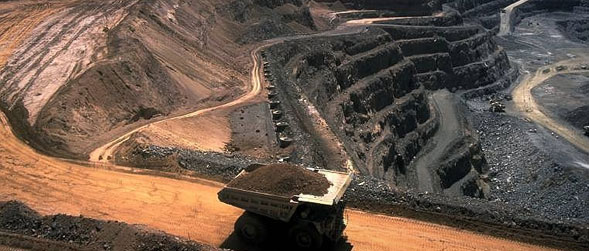 India produces 86 varieties of minerals, including 4 types of fuel minerals, 10 varieties of metallic minerals, 46 non-metallic varieties of minerals, 3 atomic varieties of and 23 minor minerals.The Indian mining and quarrying sector contributes almost2% to the country's economy. India is among the top five iron ore producing countries in the world alongside China, Australia,Brazil and Russia. Iron ore is also India's most widely exported mineral, accounting for more than 50% of total ore and mineral exports.
India has almost 13% of the world's recoverable reserves of coal and ranks third in terms of annual global production, Coal demand in India is likely to further accelerate, driven by the numerous thermal power projects and capacity expansion in steel and cement, by 50 million tonnes and 115 million tonnes respectively, by the end of Eleventh Five Year Plan (2007- 2012) in 2012. Moreover, according to the Government of India's estimates, India can expect a shortfall of 83 million tonnes of coal by the end of the Eleventh Plan. This shortage will have to be met through imports. The five largest coal users - China, USA, India, Japan and South Africa - account for 82% of total global coal use. It has been estimated that there are over 847 billion tonnes of proven coal reserves worldwide. This means that there is enough coal to last us around 119 years at current rates of production. In contrast, proven oil and gas reserves are equivalent to around 46 and 63 years at current production levels.
Our investment banking team at Eternus provides creative and insightful financial and strategic advisory services to most of the prominent Mining companies. We assist our clients to select, evaluate and cultivate identified but yet undeveloped mineral projects where data exists but which are below the resource thresholds. Our ability to blend an in depth understanding of this sector with years of investment banking experience enables us to differentiate ourselves.